Helpful Information for Buying and Selling Properties in The Preserve
Whether you are a homeowner interested in selling your property or a realtor representing property for sale in The Preserve, this brochure offers some helpful hints and information to assist in a smooth sale — and a more satisfied buyer. The Preserve Association, which was founded in 1971, is comprised of 1693 residential units including single-family homes, town homes, condominiums, twin-homes and apartments. Today it remains a unique community association where a volunteer board gives direction to long-term planning and maintenance of Preserve amenities through a general manager and staff. The Association is funded through annual dues, which are assessed per household unit. For current information on Preserve dues contact the Preserve Center at 952-941-8400. The Preserve, situated in Eden Prairie as one of the early developments in Eden Prairie, is part of a thriving community, which offers exceptional schools, parks and citywide services. The City owned Nesbitt Preserve Park is a great family and sports gathering place featuring baseball fields, ice hockey, free skating, play area and ample parking facilities. An inviting natural setting, The Preserve is just minutes from highways 169, 212, and 494, and the Eden Prairie Retail District.
The Preserve —A Unique Place to Live
Open, natural spaces are a key factor in the quality of life in the Preserve. Over 185 acres of common properties border blocks, neighborhoods and other Preserve amenities.
+ Our 2.2 acre filtered sand bottom pool with ¾ acre water surface, a 42' x50' dive pool, including showers and dressing facilities offer a unique opportunity for our membership.
+ The 187 acres of common properties, including 5 miles of walking paths and trails that wind through lovely neighborhoods and natural settings, make our neighborhoods a great place to stay healthy.
+ Three lighted tennis courts are available to our members. Two are lined for pickleball.
+ An architectural award winning community center known as "the Barn" is available for members to rent.
+ Five neighborhood play areas, a sand volleyball court, and outside picnic areas offer our members great outdoor opportunities.
+ Design guidelines and covenants to protect your property value are part of the amenities of living in The Preserve.
+ Note: Fences are NOT permitted in the Preserve in order to keep our open, natural feel. The only exceptions are swimming pool fences, small decorative fences no more than 10 feet in length and less than 4 feet high, or patio fences designed as an integral part of the building. (see design review Guidelines for further information.)
Preserve Map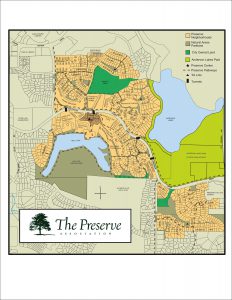 Information For the Closing
For the closing of the sale, it is the Preserve residents obligation to provide a Resale Disclosure Certificate to the buyer and state law gives the homeowners association 10 days to complete the request and allows us to charge a fee for this certificate and required documents.
Prior to closing the title company may request that the Association complete a Dues Current letter. We request 10 days to process the document.
There is a $100.00 fee to provide the resale disclosure certificate and/or the dues current letter and accompanying documents.($25.00 rush fee may apply if documents are required within 24 hours)
The new purchaser also has the right to be provided a packet of information including the Association By-laws, Articles of Incorporation, Restrictive Covenants and Construction Guidelines. New homeowners should also be provided with the Design Review Guidelines Sheet and a Design Review Request Form. They may pick up this information at the Preserve Center or you may obtain a packet and provide it to them. Click here and scroll down to "Preserve Documents" to download pdf versions
Copies of the Preserve Newsletter (published quarterly) is also a great selling tool to have available for prospective buyers. Prospective buyers are also encouraged to visit the Preserve Center — this is a great way to get questions answered from our friendly and knowledgeable staff.
New homeowners will also want to know that admittance tags for the pool and tennis courts may be obtained by contacting the Preserve Association. New tags are available after the 15th of April each year.
The Design Review Process
Protects Home Investment
To maintain the very special natural ambiance of The Preserve, the association and developer established design covenants known as Design Review Guidelines. The Guidelines support:
the maintenance of a natural setting with little disturbance to the environment and to maintain open, natural areas for the enjoyment of all residents.
and the preservation and enhancement of property value.
How Design Review Works…
A committee of volunteer residents oversees the Design Review process. It is important that home owners and potential buyers of property in The Preserve are aware of the following areas covered by Design Review Guidelines. Plans for any changes must be submitted for approval prior to work commencing on the property.
What Type of Things Does Design Review cover?
Any exterior changes to a home including alterations, paint colors, construction, decorative elements, landscaping, or hardscapes
Outdoor play gyms and swing sets, basketball hoops and athletic structures, location of T.V. antennas, satellite dishes and outdoor signs have certain restrictions

Fences are NOT permitted

in the Preserve in order to keep our open, natural feel. The only exceptions are swimming pool fences, small decorative fences no more than 10 feet in length and less than 4 feet high, or patio fences designed as an integral part of the building. (see Guidelines for further information.)
Storage of infrequently used vehicles, boats, snowmobiles, trailers, campers, excess material or equipment is prohibited by the covenants.
Housing for vehicles, recreation and other equipment should be inside the garage. Storage facilities that are an integral part of the site design using compatible architectural and color treatment will be considered by the Design Review Committee.
Waste or trash containers must be stored inside the building proper or screened from public view.
Signs are not permitted without the Design Review Committee approval. Exception "Garage Sale" signs. Home sale signs have restrictions.
Only one "For Sale "sign is allowed per property. Check to see that the homeowners association does not have further restrictions. The sign must adhere to size guidelines. "Open House signs are permitted only on the day of the event.
"For Sale" signs are allowed on Preserve streets only on the day of an open house and must be removed immediately after the event.
Property owners and potential buyers see these covenants as a major asset in protecting and enhancing property value and neighborhood appeal.
If you are selling a home in The Preserve you should obtain the Design Review Elements, as well as have a copy of the By-Laws, Construction Guidelines, Restrictive Covenants and Articles of Incorporation available for potential buyers to review. You may obtain these documents in the Useful Information page of the website or by contacting the Preserve Center at 952-941-8400.
Please click to download the Design Review Request Form.